27 Times The "All Stars 3" Premiere Made Me Spit Out My Vodka Soda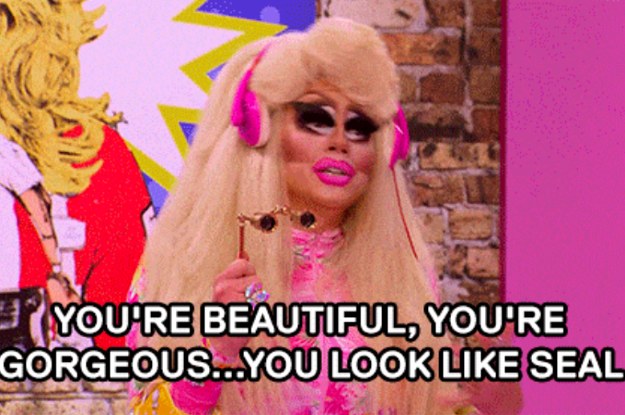 I love being gay.
When the show opened with The Handmaid's Tale spoof featuring Drag Race Hall of Fame-ers Alaska and Chad Michaels…
VH1
…complete with "Ofrupaul" name placards underneath their portraits in the Hall of Fame.
VH1
When Trixie Mattel skated around the empty workroom and proclaimed, "It's like a Morgan McMichaels meet and greet in here!"
VH1
When Chi Chi DeVayne entered the workroom in trash bags. THAT BRAND!
VH1
When Morgan McMichaels walked into the workroom saying, "I look pretty good for a dead bitch."
VH1
When Aja went off about all the work she had done…
"I had my lips, my cheeks, my chin, my skin…I had botox in my forehead."
VH1
…and then Trixie chimed in with:
VH1
When Trixie saw Kennedy Davenport's entrance look and said, "COME THRU WHOVILLE!"
VH1
When I saw Shangela's arms. I mean, HONESTLY.
VH1
When Bebe walked into workroom as the surprise queen!!! OK, REDDIT DETECTIVES!
VH1
When Trixie held NOTHING BACK when she read Aja.
VH1
When Ben's read compared Thorgy to IT so, so, SO, perfectly.
VH1
When Bebe delivered her read to Morgan McMichaels.
"I'm not going to read Morgan McMichaels… life already has!"
VH1
And when Chi Chi read Milk and got a little TOO honest.
VH1
When Trixie was picking her workspace and DRAGGED Pearl.
VH1
When Morgan McMichael's shaded the queen's gameplay during All Stars 2 and mimed breast feeding.
VH1
When Trixie tried to tongue-pop.
VH1
When Mama Ru walked down the runway for the first time this season because, um, yas.
VH1
When Shangela death dropped at the end of her performance.
VH1
When Bebe ripped off that skirt and went AWF.
VH1
When Aja made this face during Thorgy's performance:
VH1
And then when it was Aja's turn and she death dropped OFF OF THE FUCKING BOX!!!!!! LIKE WHAT!!!
VH1
When Kennedy wasn't going to be upstaged by Aja, so she flipped ONTO the box.
VH1
When it was time for the judges critiques and RuPaul asked Michelle if she's going to make anyone quit again.
VH1
When Thorgy wasn't here for Vanessa Hudgen's critique.
VH1
When Milk hilariously shaded All Stars 2.
VH1
And finally, the ENTIRE "Anaconda" lip-sync because:
VH1
I LOVE BEING GAY!!!
VH1
loading…
You Should See This: