A Father Of Three Girls Abused By Larry Nassar Attacked The Ex-Gymnastics Doctor In Court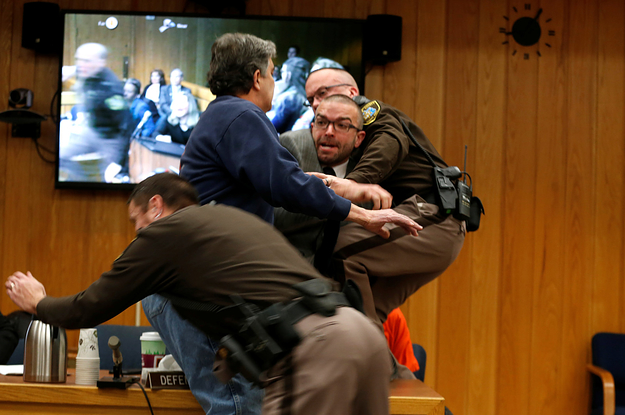 A father of three girls who were sexually abused by Larry Nassar tried to attack the former USA Gymnastics doctor in court during a sentencing hearing on Friday as security guards tacked the man to the ground and arrested him.
After two of his daughters delivered victim impact statements, Randall Margraves asked the judge to grant him five minutes alone "in a locked room with this demon."
After Judge Janice Cunningham told Margraves that she could not do that, the father charged toward Nassar before being tackled to the ground by court officers.
"I want that son of a bitch," Margraves said as he was being tackled to the ground. "Give me one minute with that bastard!"
As he was being taken out of the room, Margraves asked the arresting officers, "What if this had happened to you guys?"
Assistant Attorney General Angela Povilaitis turned to the remaining victims in the court room, telling them they could not behave like this.
"This is letting him have the power over us," she said, urging people to use their words and not physical violence.
After a short break in the proceedings, Judge Cunningham returned to tell the court that they should allow "the criminal justice system to do what it's supposed to do."
"We cannot react by using physical violence and assault against someone who is and has performed criminal acts," Judge Cunningham said. "That's not how our system works."
Margraves' third daughter spoke in Ingham County court last week.
Nassar, who was sentenced to 40 to 175 years behind bars last week for sexually abusing young athletes under the guise of medical treatment, is in court again this week to face sentencing on similar charges in a different Michigan county.
More than 60 women are expected to deliver victim impact statements in Eaton County.
loading…
You Should See This: