A "Harry Potter"-Themed Bar Crawl Is Getting Slammed On Facebook By People Who Say It Was A Scam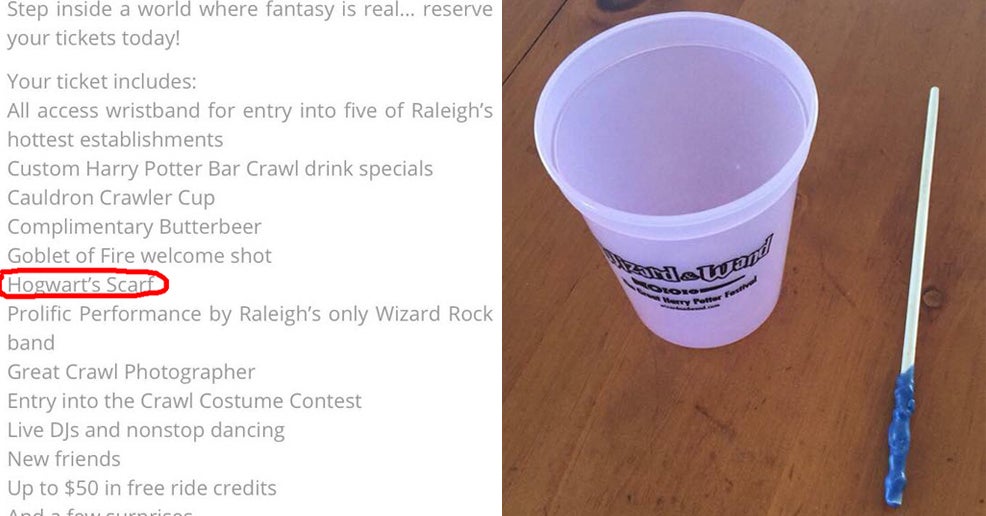 Medford told BuzzFeed News the vendor that was supplying the scarf "fell through," citing that "they weren't able to get them shipped from China" in time.
He claimed there was an announcement on the Facebook event page informing everyone that they would not be receiving a Harry Potter–themed scarf anymore. (BuzzFeed News was unable to confirm this, as the event page was deleted.)
People who purchased tickets, however, claim they were never directly informed of this change of plans. Multiple people cited a lack of clarity about the scarf in reviews on the Facebook page, and three people who purchased tickets told BuzzFeed News they never saw an announcement of any kind that the scarf was no longer a part of the package they'd already paid for.
"They never communicated that they changed their mind, they just 'updated' the description in the event without telling anyone," Christina Robbins, 28, said.
Robbins and others said they only noticed the scarf was omitted from the event description as they were checking their tickets leading up to the day of the event.
loading…
You Should See This: