Google Memo Author James Damore Sues Company For Discrimination Against White Males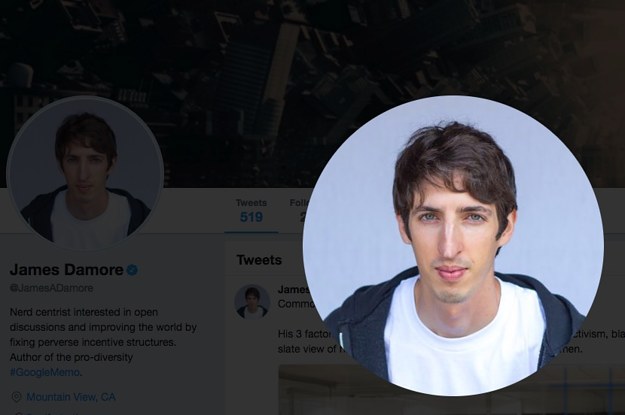 The author of a controversial memo that sparked debates about gender and diversity at Google sued his former employer on Monday, alleging that the company discriminates against politically conservative white males.
James Damore, who was fired in August for internally circulating a manifesto that argued Google's gender pay gap was the result of genetic inferiority, said in a lawsuit filed in Santa Clara Superior Court that the search giant "singled out, mistreated, and systemically punished and terminated" employees that deviated from the company's view on diversity. Damore and a second plaintiff, David Gudeman, another former Google engineer, are seeking class-action status for conservative Caucasian men.
The men are being represented by Harmeet K. Dhillon, the Republican National Committee's committeewoman for California.
"Google's management goes to extreme — and illegal — lengths to encourage hiring managers to take protected categories such as race and/or gender into consideration as determinative hiring factors, to the detriment of Caucasian and male employees and potential employees at Google," the suit reads.
Damore's lawsuit is the latest legal challenge for Google, which also faces a suit for unequal pay. Earlier this month, four women plaintiffs, as part of a revised lawsuit, alleged that the company had asked for their previous salaries and had underpaid them compared to their male counterparts.
Damore's suit, which comes from the opposite end of the spectrum, was expected given his very public hiring of Dhillon in August. That month, the Dhillon Law Group published a blog post asking for anyone who had experienced illegal or retaliatory employment practices to get in touch.
In the 161-page complaint, Damore frames himself as a model Google employee who received 8 performance bonuses and $150,000 per year stock bonuses since he started working at the company in the summer of 2013. Despite this, he was terminated from his job after voicing his complaints about diversity practices and publishing his now-infamous 10-page memo, titled "Google's Ideological Echo Chamber."
"Damore was surprised by Google's position on blatantly taking gender into consideration during the hiring and promotion processes, and in publicly shaming Google business units for failing to achieve numerical gender parity," reads the suit, following an event in March 2017 in which Chief Financial Officer Ruth Porat and Human Resources Director Eileen Naughton "shamed" that had less than a 50% female workforce.
Damore also says that he felt forced to attend and participate in diversity training events and that he was threatened and insulted by his coworkers following the publishing of his memo. He included an email from another Google employee who promised to "hound" Damore until one of them was fired.
During the call when they terminated Damore, management did not identify "any Google policy or procedure that Damore had violated," the suit reads.
Gudeman, according to his LinkedIn profile, worked at Google as an engineer from November 2013 to December 2016. He is currently a self-employed software contractor and writer.
A Google spokesperson did not respond to a request for comment.
Damore and Dhillon are expected to hold a press conference at 12 p.m. in San Francisco.
Ryan Mac is a senior technology reporter for BuzzFeed News and is based in San Francisco. He reports on the intersection of money, technology and power.
Contact Ryan Mac at ryan.mac@buzzfeed.com.
Got a confidential tip? Submit it here.
loading…
You Should See This: