I Tried Cooking Dinner All Week On A $30 Budget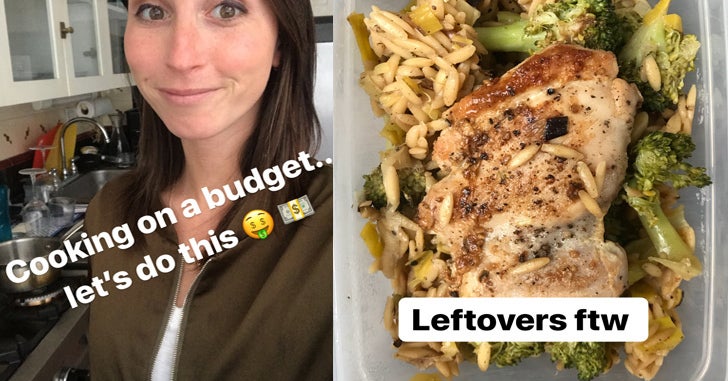 All in all? The week was actually a lot easier than I was expected.
While the $30 is less than I normally spend, it turned out not to be an issue. Most meals made two portions (or leftovers), and for the ones that didn't, I could have easily fed both me and my boyfriend for just a few bucks more. And the best part is that after cooking at home for a week, I had zero guilt about splurging on a nice meal out on Saturday night.
If you're thinking doing something similar, here are a few pointers that might help you out:
1. Put thought into planning your grocery list: ✍🏻 If you go to the grocery store without a plan, you'll find yourself buying lots of extra ingredients and items that don't necessarily work together. Fine-tuning your grocery list before you shop will help you stay organized, focused, and within your budget.
2. Mix in a few vegetarian meals: 🥕 When it comes down to it, meat is usually the most expensive thing in your grocery cart — so it helps to have some great vegetarian staples on hand. While you probably won't be able to buy fancy cuts of meat or fresh seafood on a budget, there are also lots of affordable meat options to consider adding to your grocery list like ground meat, canned tuna, frozen cod fillets, or frozen meatballs.
3. Meal prep as much as you can. 🥣 If you know one night of your week tends to be busy, try preparing as much as you can ahead of time to reduce your cooking time. Chop any veggies, make any grains in advance, and even cook meat the night before so you can re-heat it on a busy night.
You Should See This: