This Beautiful Image Of A Rescued Gorilla Hugging Her Caretaker Just Won Wildlife Photo Of The Year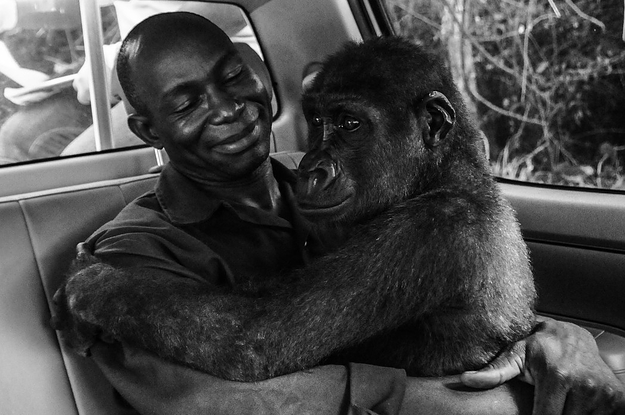 The shot, by Canadian photographer Jo-Anne McArthur, shows Pikin, a 6-year-old rescued lowland gorilla, cuddling with Appolinaire Ndohoudou, her caretaker, as she moves to a new animal sanctuary in Cameroon.
McArthur's image was chosen as the winning photo by the public through online voting. More than 50,000 photographs were submitted to the annual contest, which is hosted by the Natural History Museum in London. Twenty-four images were chosen by museum staff for the People's Choice Award competition. The picture will be showcased in the Wildlife Photographer of the Year exhibition at the Museum until it closes on May 28.
The award-winning photo was taken in 2009 at the Ape Action Africa safe forest sanctuary in Mefou, Cameroon. (A museum spokesperson confirmed to BuzzFeed News that the contest has no time restraint on when images are taken.)
In her book, We Animals, McArthur describes the circumstances that led to this incredible picture. "Even though it's unadvisable, to say the least, to get into a vehicle with a gorilla — given how they might panic in the unfamiliar, bouncing confines of a moving car — Pikin had been sedated and was being held by Appolinaire. Worryingly for me, Pikin woke up earlier than anticipated and looked around sleepily. Luckily, she seemed content to be in the arms of her caretaker, and eventually lay her head back down to rest and nodded off."
Primates in Cameroon and other African countries are targeted by hunters to be killed and eaten as part of the "bushmeat" trade. Since infant gorillas don't have as much meat as their mothers, hunters will often leave the orphans alone to die in the forest or sell the tiny apes as pets. The lucky ones rescued by organizations like Ape Action Africa often require intensive medical treatment and, like all babies, need to be fed and cared for. This means that the rescued gorillas get used to humans — making them more vulnerable to poachers — and therefore cannot be released back into the wild.
"When Pikin arrived I saw that she was very clever," Ndohoudou said. "She really loved me and I loved her. She didn't like the other gorillas coming near me as she was jealous and she would shout if they tried to come and give me hugs. I was her father, I belonged to her. Pikin loved me and respected me like her father; when I say no she would accept but then she was clever as she would wait until she thought I had forgotten and then she would do it! She was very funny.
Ellie Hall is a reporter for BuzzFeed News and is based in Washington, DC. Her secure PGP fingerprint is 6055 A264 DADD AADC 347E 5986 547C C11C DD7D 176A.
Contact Ellie Hall at ellie.hall@buzzfeed.com.
Got a confidential tip? Submit it here.
loading…
You Should See This: