17 Ridiculously Terrifying Things That Happened In Disney Channel Original Movies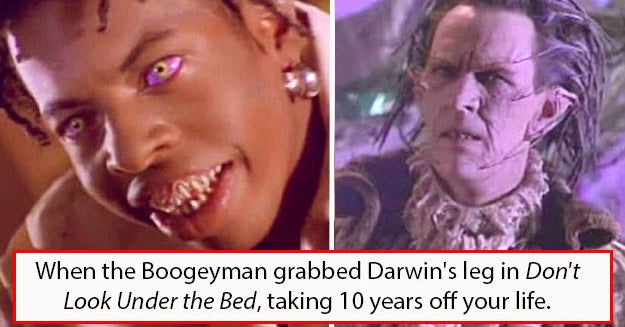 Don't lie, you were spooked AF.
When the Boogeyman grabbed Darwin's leg in Don't Look Under the Bed, taking 10 years off your life.
Oh, this still doesn't scare you? Lies. You've been scared to hang your feet off the bed since '99.
Disney-ABC Domestic Television
When the phantom was lurking around every corner in Phantom of the Megaplex.
This dark, ominous figure literally ran all over the movie theater wreaking havoc on innocent moviegoers. After watching this movie, you couldn't walk into a room without turning the lights on.
Disney-ABC Domestic Television
When this spine-chilling ~fear monster~ came out of the woods in Girl vs. Monster.
Seeing this lanky monster coming toward you…NOPE.
Disney Channel
When Jay was captured by the Thoad and locked up in the alien's "zoo of specimens" in Can of Worms.
After this movie, you definitely started questioning whether your siblings were alien lifeforms from another planet. You always knew there was something off about them. 👽
Disney-ABC Domestic Television
When Pat's system went haywire and she held everyone hostage in Smart House.
Disney tried warning us about rogue technology long before Black Mirror came along.
Disney-ABC Domestic Television
When Kalabar came flying in from the shadows in Halloweentown.
This was hands down the scariest scene in Halloweentown. What was Disney thinking?! You slept with the light on for at least a week after this movie premiered.
Disney-ABC Domestic Television
Or when Marnie's mom transformed into her literal Halloween costume in Halloweentown II: Kalabar's Revenge.
Every time your mom yelled at you, you waited for her to turn into this big, green, scaly monster.
Disney-ABC Domestic Television
Or when all of the Halloween carnival decorations came to life and terrorized fairgoers in Halloweentown High.
To this day, you can't walk into a party store without imagining those gory decorations springing to life and coming for you.
Disney Channel
When Megan found out her stepsister and stepfather were actually gaseous fugitive alien's from Planet Zircalon-6 in Stepsister From Planet Weird.
Once again, Disney made you question if your siblings were earthlings or aliens. You're still unsure. 🤔
Disney Channel
When the Darkness consumed everything and everyone in Coventry during Twitches.
You totally wished you had a secret twin sister and magical powers — that is, until a literal shadow monster tried to destroy everything. Hard pass on the dark demons.
Disney Channel
Or when Thantos tricked Alex into bringing him back from the Shadowlands in Twitches Too.
The creepy shadows were back again and scarier than ever. Why would Alex reach out and pull this creature into her realm? Why Alex?!
Disney Channel
When Winnie tried sucking out Max's youthful soul in Hocus Pocus.
This movie was pretty terrifying. To think the Sanderson sisters were going to kill all of the children in Salem is pretty damn dark for a kids movie.
Buena Vista Pictures
Literally just the entire movie Under Wraps.
I mean, the mummy literally comes alive in search of his long lost love. And look at its face! Nightmares All. Night. Long.
Disney–ABC Domestic Television
When a seemingly normal history teacher was actually in a medieval cult plotting to bring the entire world as we know it back into a dark age in Avalon High.
How stressed out were you when you realized the trustworthy teacher was actually a member of the Order of the Bear?! You've been skeptical of all your teachers since then.
Disney Channel
When Dimitri was about to chow down on Taylor in Mom's Got a Date With a Vampire.
This movie made vampires ~happen~ long before the Twilight era, except with fewer sparkles.
Disney-ABC Domestic Television
When Loretta, a pixelated hologram, invaded Sam's mind during a battle for human residency in Pixel Perfect.
Once again, Disney beat Black Mirror to the punch. A computer program completely invading the mind of a human host? NOPE. Seems a bit too possible these days.
Disney Channel
Finally, when Zachariah stole the souls of those trying to cross over in order to strengthen his powers and seek revenge in The Scream Team.
Just this one scene alone gave you the creeps. You're not trying to conjure any spirits, so you've never stared directly into your fireplace since. Did we mention he burned his wife alive?
Disney Channel
loading…