55 Iconic Toys Every '90s Kid Wanted For Their Birthday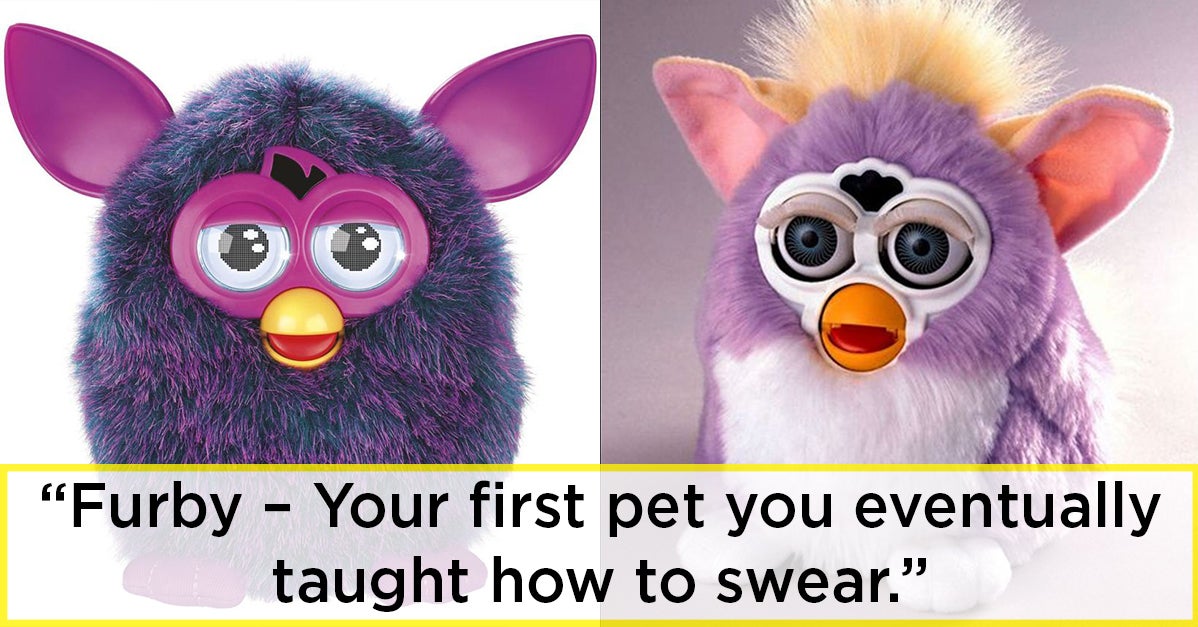 Let's be real, we're all still kids at heart.
Betty Spaghetty — The outfit options…the hair… Everyone wanted to play with Betty.
100% borrowed Betty from my older sister.
Ohio Art Company / Via youtube.com
Foxtail — Oh, the amount of power you felt whirling this above your head like a dang cowboy with a lasso.
Simple, effective, and probably stuck in a tree somewhere.
Cassidy Labs / Via youtube.com
Lite-Brite — For the emerging artist inside of you.
It was just so pretty.
Hasbro / Via youtube.com
Game Boy Color — The epitome of childhood gaming.
All the games you needed, conveniently stored in your back pocket.
Nintendo / Via youtube.com
Tamagotchi — You knew your parents trusted you with REAL responsibility when you were gifted one of these.
This is how you learned about the tragic cycle of life. RIP, little buddies.
Bandai / Via youtube.com
Giga Pets — If your parents were trying to save $10, you probs got a Giga Pet instead of a Tamagotchi.
Virtual pets were all. the. rage.
Tiger Electronics
Bop It — Twist it, pull it, love it.
No party was complete without one of these!
Hasbro
Socker Boppers — You were basically Hulk Hogan.
Powerful pillowy punches. How did you convince your parents to get this?!
Rock 'Em Sock 'Em Robots — For the kids whose parents thought Socker Boppers were too violent.
Solving sibling rivalry since 1964.
Mattel
Furby — Your first pet you eventually taught how to swear. 😜
Your parents didn't see that one coming.
Hasbro
Moon Shoes — Your ankles may have been in danger, but damn, did you look and feel cool!
Fashion and fun at its finest.
Hart Toys
HitClips — You didn't need longer than a minute to jam out with this bad boy.
You absolutely needed them for your school bus commute.
Mouse Trap — Oh, the satisfaction you felt when you finally caught that lil' bugger!
A game of cunning, manipulative skill.
Milton Bradley Lakeside
Doodle Bear — Finally a toy you could destroy with no consequences.
A toy parents and children could both get behind.
Tyco
Super Simon — If your parents bought this for you, then you could show them how much of a ~genius~ you were.
Memory games FTW.
Milton Bradley
Gak Splat — Did Nickelodeon make anything we didn't love? This was a must.
You still remember the smell, don't you?
Rainbow Brite — You wanted one in every color.
The only thing better than the TV show was the toys!
Mattel
Poo-Chi — If you got this, then you could prove how ready you were for a real dog.
Let's go for a walk.
Sega Toys
Polly Pocket — What else could have prepared you for your future?
A whole world, in your pocket!
Mattel
Slinky — The OG fidget spinner.
So. Mesmerizing.
Alex Brands
Trolls — Do we know why we loved these? No. Do you still want one? Yes.
Touch the belly.
DreamWorks Animation
The Game of Perfection — Some kids just wanna see stuff explode.
I'm one of those kids.
Milton Bradley Lakeside
Skip It — How many skips could YOU do? This was essentially the OG Fitbit.
I don't know who this nun is, but she knows what's up.
Tiger Electronics / Via giphy.com
Play-Doh Fuzzy Pumper Barber and Beauty Shop — Prepping a future generation of barbers and hairstylists.
Thanks, Play-Doh!
Hasbro
Stretch Armstrong — Did you stretch it until the armpit ripped too?
Classic sibling bonding!
Kenner / Via giphy.com
Super Soaker 50 — No pool party was complete without a Super Soaker showdown.
Pure adrenaline.
Larami
Koosh Balls — Not as complex as the yo-yo, but just as addicting.
You just had to have one.
Sky Dancers — Flying fairies quickly turned into all out air warfare.
Your Sky Dancer always won.
Galoob
Magic Mitt — Ripping the ball off was one of the most satisfying sounds of your childhood.
Someone make an ASMR video with these bad boys.
Mastermind Toys
Nintendo 64 — You needed this for your social life to thrive.
Mario Kart parties forever.
Groovy Girls — There were more than just Barbies.
Groovy Girls had it going on!
Homies — TBH Fat Boy was your favorite.
Although Mr. Raza and Smiley were a close second and third.
HomieShop LLC
Atari Jaguar — Alien vs Predator was ~so intense.~
You thanked your parents at least 12 times for this bomb gift.
Brain Warp — Bop It and Brain Warp were BFFs, and you needed them both.
Wanna warp again?
American Girl dolls — You took the best care of your doll.
So pricey, so worth it. Wanna swap a Samantha book for a Felicity one?
Slammer Whammers — The coolest Pogs you could collect.
You were essentially gambling, but it's okay because you turned out just fine!
Silly Putty — Break it, bounce it, or squish it, Silly Putty could do anything.
And it kept you occupied for HOURS.
Laser Challenge — Your parents set a time limit on this game, but damn it was fun.
Your sleepover parties were off the chain.
Buzz Lightyear — To infinity and beyond!
You needed a Jessie doll too, of course.
Pixar
Yu-Gi-Oh! Trading Card Game — What else did you do at recess?
Your parents may have not understood the obsession, but they did understand that you needed them all.
Spice Girls dolls — You had to have them — they were the Spice Girls.
They're what you really, really wanted.
Galoob Toys
G.I. Joe — Girls everywhere made G.I. Joes date their Barbie dolls.
They were much more ~badass~ than Ken dolls.
Hasbro
Slime — Nickelodeon defining your childhood once again.
So squish.
Mattel
Etch A Sketch — It was basically your first computer.
Except you could shake it, and all your mistakes would dissappear.
Nerf Blaster — You're still finding foam ammunition at your parents' house.
But man, those battles were epic!
Hasbro
Water Talkies — You could hardly hear what your friends were saying, but screaming into plastic has never been more lit.
What did you say?
Richie Stachowski, Jr.
Easy Bake Oven — If your parents bought this for you, then you could learn real life skills.
And when your sibling was nice you'd let them play too.
Hasbro
Vortex Football — No regular football could touch this, and you needed it to prep for tryouts.
You were *this close* to making quarterback.
A professional yo-yo — Everyone wanted one, but we weren't all destined for yo-yo greatness.
Could you walk the dog?
Playmaxx
Pokémon Trading Card Game — You always played to win.
Everyone still loves Pikachu.
Littlest Pet Shop — Your parents better have bought you these tiny babies.
They're just so little. 😍
Hasbro
Street Sharks — You needed toys to play with while you watched the TV show, obvi.
The sharks are on skates. What more could you have wanted?
Mighty Max — Again, how are you supposed to watch Mighty Max without the toys?!
Essentially Polly Pockets for all the Mighty Maxs in your life.
Sylvanian Families — These are what family values are built on.
Adorable. Furry. Animals. Ahhhhh. You 100% needed them all.
Epoch
And finally, Beanie Babies — How did you exist in the '90s without them?
You never took the tag off 'cause this was gunna be BIG MONEY someday.
Ty Warner
loading…