Rachel Brand, The Third-Ranking Justice Department Official, Is Stepping Down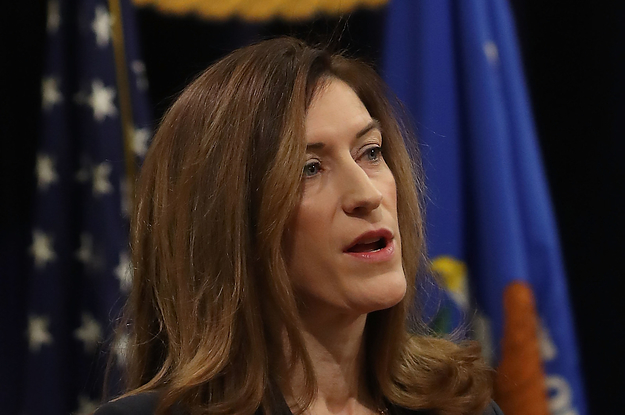 Associate Attorney General Rachel Brand — the third-ranking official at the Justice Department — is leaving the department after less than a year on the job, two senior Justice Department officials told BuzzFeed News.
Brand is going to Walmart Inc., where she'll become the head of global governance, a job that involves overseeing the company's legal functions, investigations, and ethics compliance, according to a source familiar with Brand's decision. The New York Times first reported Friday that Brand is stepping down.
Brand is currently the number three official at the Justice Department, but she is next in line to take on oversight of the special counsel investigation into Russian influence in the 2016 election if Deputy Attorney General Rod Rosenstein, the official currently in charge, left or was fired.
Brand has kept a low profile at the department since she was confirmed in May. She hasn't been publicly linked to the Russia probe. The associate attorney general traditionally is in charge of managing the day-to-day operations at the department. Her portfolio has included hate crimes prosecutions, tribal justice issues, and deregulation.
Brand's departure would mean that Solicitor General Noel Francisco would become the next highest-ranking official in line to take over the Russia probe, according to an internal DOJ succession memo adopted by former attorney general Loretta Lynch in November 2016 that was obtained by government watchdog group American Oversight from the Justice Department in September via a Freedom of Information Act request. That attorney general-designated succession list remains authorized under the most recent DOJ succession executive order signed by President Trump.
A Justice Department spokesperson did not immediately return a request for comment. The news that Brand was leaving came as a surprise to several senior Justice Department officials contacted by BuzzFeed News.
Brand brought a more a politically-connected resume to the Justice Department than Rosenstein — she previously worked in the White House and Justice Department under former president George W. Bush, and served as vice president and chief counsel for regulatory litigation at the US Chamber Litigation Center.
Trump has publicly and repeatedly expressed his frustration with Rosenstein's decision to appoint Mueller as special counsel last year, leading to speculation that he might fire Rosenstein — a move that would put Brand in a high-profile and politically volatile position.
The fact that a memo prepared by Republican staff on the House Intelligence Committee alleging law enforcement abuses in connection with surveillance applications to the Foreign Surveillance Court named Rosenstein again raised questions about whether Trump would want to remove him. The memo, which was released on Feb. 2 after Trump declassified it, stated that Rosenstein had signed off on at least one application to surveil Carter Page, a former Trump campaign adviser.
On the day the memo was released, Trump was asked if he would fire Rosenstein and whether he still had confidence in the deputy attorney general. Trump replied, "You figure that one out."
Jamie Gorelick, a former DOJ official under former president Bill Clinton who worked with Brand at the law firm Wilmer Cutler Pickering Hale and Dorr and was aware of Brand's decision to leave, told BuzzFeed News that the offer from Walmart was one that "doesn't come up that often."
"Walmart reached out to her with a job that is a perfect fit for her and she decided that she needed to take it," Gorelick said. Gorelick did not know when exactly Brand would be leaving the Justice Department.
One of Brand's former Justice Department colleagues from the Bush administration, Dan Bryant, is senior vice president for global public policy and government affairs at Walmart.
Chris Geidner contributed reporting to this article.
loading…