Several People Protesting The Deportation of An Immigrant Rights Advocate Were Arrested In New York City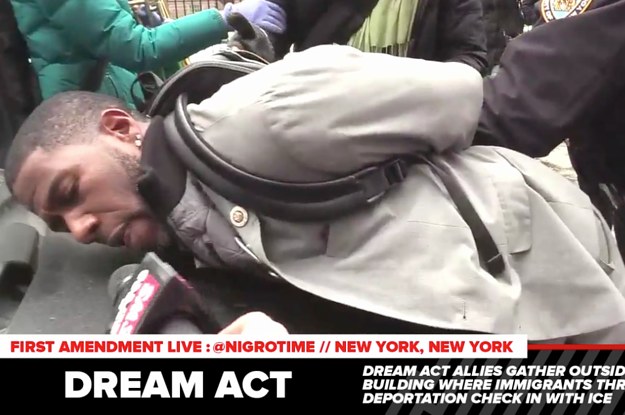 Demonstrators were protesting the detention of immigration rights activist Ravi Ragbir, who was detained during a routine check-in with Immigration and Customs Enforcement (ICE) on Thursday morning.
New York City police arrested 18 protesters outside the building, an NYPD spokesperson confirmed to BuzzFeed News. They did not confirm whether those arrested had been charged.
"A longtime New Yorker, a husband and a father, Ravi is beloved by all of us who have had the privilege of working with him to make New York a welcoming community for all of its residents," said Kaji Dousa, senior pastor of Park Avenue Christian Church and co-chair of Ragbir's immigrant rights group, the New Sanctuary Coalition of NYC. "The fact that ICE has taken him as if his spirit, family ties, and contributions to the community mean nothing is inhumane."
Protesters outside the federal building in Manhattan were also advocating for immigration reform to give undocumented immigrants legal status, while that's been the subject of negotiations in D.C. this week. President Trump told Democratic legislators that if they support the building of a wall on the Mexican border, he may support a bill to protect the 800,000 undocumented young people who were eligible for protection under DACA before he canceled that program.
Ragbir's lawyer, Alina Das, told BuzzFeed News he has multiple legal challenges to his deportation underway, and should not have been detained by ICE today.
"They just simply said that they could. They said he has a deportation order which of course he's had for many years that we've been trying to challenge," Das said. "Now today at a routine check on they tell us it doesn't matter, that they are just making the decision to enforce the deportation order."
"We've been told that he will be processed and taken to a detention facility, they will not tell us where."
Ragbir is facing a deportation order over a 2001 conviction for wire fraud, which he spent 30 months in jail for. His attorneys are seeking to have that conviction vacated and, separately, plan to challenge the legality of the deportation order based on that conviction.
He immigrated to the US from Trinidad in 1991 and became a permanent resident in 1994, but an immigration judge placed an order of deportation on him in 2006 on the basis of his fraud conviction.
ICE officials issued Ragbir a stay of removal in 2011, which has been renewed since. That stay, which his lawyers are seeking to extend, is due to expire next week, on Friday 19 January.
ICE did not immediately respond to a request for comment.
He collapsed when he was told he would be detained and deported, Das, who was with him at the time, said. He was revived and checked by a nurse, who found he had low blood pressure. She said authorities called an ambulance to take him to a nearby hospital.
This is a developing story. Check back for updates and follow BuzzFeed News on Twitter.
loading…