These Are The Recipes We Tried And Loved Lately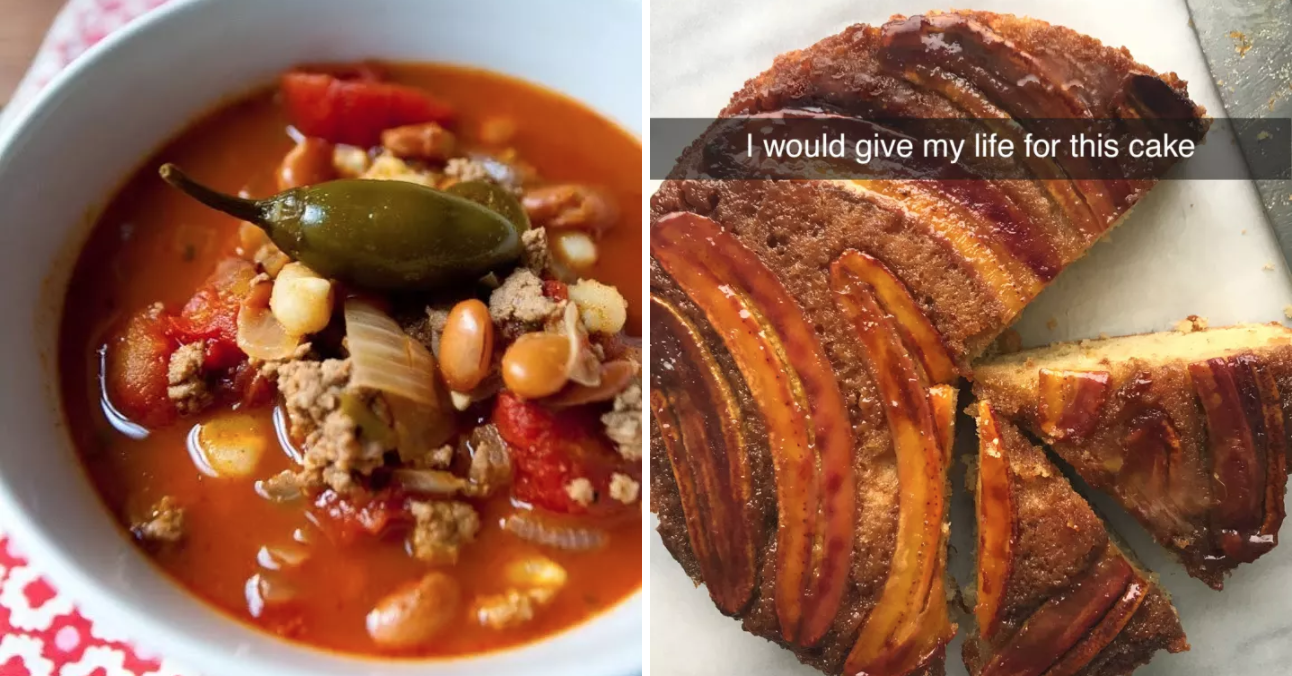 Here's what our editors and writers are making in their own kitchens.
Zoe Burnett / BuzzFeed
Taco Soup
I have been making this recipe for a few years, and I just made it again for the first time this winter — and was delighted yet again by how fast, easy, and delicious it is. It doesn't dirty up a bunch of dishes or utensils; the "hardest" part is chopping the onion. It also makes for great leftovers. One recommendation: If you have kitchen shears, use them to cut the stewed tomatoes into bite-size pieces. Oh, and top each bowl with a big dollop of sour cream. —Rachel Wilkerson Miller
Get the recipe here.
Joanna Goddard / cupofjo.com
Upside-Down Banana Cake
This discovery came about after my coworker showed me a picture of this stunning upside-down banana cake. It was glossy, perfectly browned, and unlike anything I had ever seen before — I immediately went home and made it.
To make the cake, you have to make a caramel sauce, dump it in a cake pan, place cut bananas into the caramel, then top it with the batter. This might sound like a lot of work, but don't worry, it's not that bad. The important thing to remember is to let the cake cool before turning it out. The caramel sauce needs time to harden up a bit, and if you flip it too soon, you'll end up with a soggy mess (which I have done not once, but twice making pineapple upside-down cake). If you're looking for a new take on a classic, this is for you — it's beautiful, glossy, and perfect for the cold winter months. —Jesse Szewczyk
Get the recipe here.
Jesse Szewczyk / BuzzFeed
Fig and Walnut Sourdough Bread
I'm really into sourdough bread baking, and I recently started tinkering around with my base recipe by adding things like seeds, nuts, and fruit.
Without question, the best "crumb" (internal structure) of any bread I've made is this pretty simple sourdough with caraway and flax seeds. I gasped when I sliced into it! The taste was spectacular — the caraway seeds were great little bursts of flavor, and the flax added some great texture. It was perfect with a little smear of Irish butter!
On impulse, I picked up some dried Smyrna figs at the grocery store. I wasn't sure what to do with them, but this fig and walnut sourdough loaf was a wildly successful experiment and I can't wait to make it again. I just chopped up some figs and walnuts and threw them into my go-to sourdough recipe, and hoooooly moly. The bread was incredible — sweet figs and crunchy walnuts are a perfect combination! It was fantastic with a little Irish butter and a drizzle of salted honey. —Cates Holderness

Get the recipe here.
Cates Holderness / instagram.com
Vegan Cashew Pesto
This is a really good twist on traditional pesto and didn't taste like a watered-down or "healthier" version at all. Most other pesto recipes I've found call for a lot of oil, which I'm not a fan of. This recipe had the perfect balance of ingredients — I actually used half spinach and half basil and it tasted amazing. I mixed it with pasta, chicken, green beans, and sun-dried tomatoes for a Christmas lunch salad. Then I used leftovers on toast and as a dip! —Jemima Skelley
Get the recipe here.
Jemima Skelley / BuzzFeed
Congee
I first had congee at Mission Chinese in New York and became so in love with this dish that I attempted to recreate it at home the next day. I've now been making this recipe every winter for the past two years and I'm still obsessed.
Congee is a rice porridge that's popular in East Asian countries. The idea behind it is very straightforward — overcook your rice in water until it turns into gruel — and you can customize it as much as you like.
I usually cook mine in chicken broth to add flavor and I add some mushrooms and/or precooked chicken 10 to 15 minutes before it's ready. For toppings, my faves are fish sauce, hot sauce, sesame oil, cilantro, and green onions. The whole thing is delicious, super cheap, and ridiculously cozy. What more do you need? —Marie Telling
Get the recipe here.
Marie Telling / BuzzFeed
Goat Cheese, Spinach, and Sun-Dried Tomato Quiche
This was so easy to make! I opted for a pre-made pie crust since I was cooking a bunch of other dishes. I added a little more spinach than the recipe called for and put in half the amount of sun-dried tomatoes, since 1/2 cup seemed like a lot. We put the goat cheese down first on the pie crust to ensure a nice bite of cheese with every bite.
The quiche was made the night before and reheated well. I covered it in foil so the crust wouldn't burn. You might need to reheat longer than the recipe says, but check until the middle is warm. The quiche looked pretty and it was all gone by the end of the brunch! —Tiffany Lo
Get the recipe here.
Tiffany Lo / BuzzFeed
Gingersnaps
Over the holidays my mother and I did a ton of cooking together, but one recipe that stood out to me (probably because I ate two dozen of them) was these crispy-yet-chewy gingersnaps.
The recipe is super simple, and the flavor profile is nothing unusual or challenging, but the cookies were just so damn good! While the cookies had some competition (via some peppermint bark and chocolate pretzels on our holiday table), our whole family agreed that these were by far the star of the show.
The only tweak we made to the recipe was rolling them in turbinado sugar (aka raw sugar) instead of regular ol' white sugar. This gave the outside a crisp texture and made them glisten. This will certainly be a recipe we use every year. —Jesse Szewczyk
Get the recipe here.
Jesse Szewczyk / BuzzFeed
loading…