Trump's Spokesman Says The White House "Could Have Done Better" Handling A Top Aide Who Allegedly Abused His Ex-Wives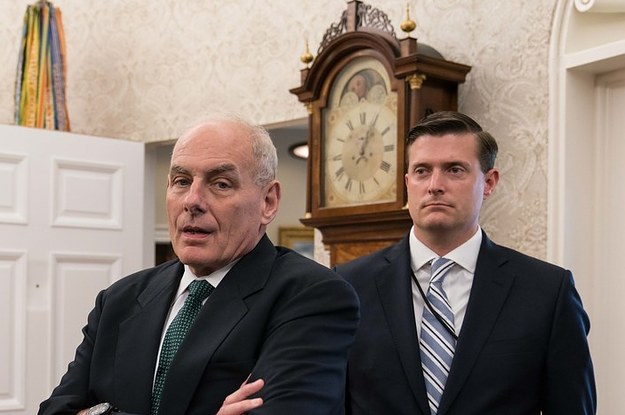 A top spokesperson to President Trump said Thursday that the administration "could have done better" in handling how it responded to allegations of domestic abuse against former White House staff secretary Rob Porter.
"I think it's fair to say that we all could have done better over the last few days in dealing with this situation," Raj Shah, a deputy press secretary, said.
Shah was responding to a barrage of questions about what the White House, in particular White House chief of staff John Kelly, knew about the allegations against Porter that became public on Wednesday, and prompted his resignation.
Porter was accused of domestic abuse by two of his ex-wives in a Daily Mail article. In the story's wake, Porter submitted, and Kelly had accepted, his resignation on Wednesday.
Prior to Porter's resignation, Kelly told the Daily Mail that Porter was "a man of true integrity and honor," and that the former Marine Corps general couldn't "say enough good things about [Porter]."
Kelly went on to call Porter "a friend, a confidante and a trusted professional."
But on Wednesday evening, as photos of Porter's ex-wife with a black eye circulated, Kelly released another statement, writing, "I was shocked by the new allegations released today against Rob Porter. There is no place for domestic violence in our society." Kelly went on say he stands by his previous comments on Porter and that he believes "every individual deserves the right to defend their reputation."
During Thursday's briefing, Shah said that Porter was operating on an "interim security clearance" while a background investigation was ongoing. Porter's ex-wives said they were truthful in interviews with the FBI when Porter was being vetted for White House security clearance last year.
Calling the abuse allegations "serious and deeply troubling," Shah reiterated that Porter denied the allegations and that the "incidents took place long before he joined the White House."
Shah said that chief of staff John Kelly became "fully aware" of the allegations against Porter on Wednesday and refused to go into specifics when asked if Kelly was "partially aware." Shah also said President Trump became aware of the allegations on Tuesday night.
"He was surprised. He like many of us, did not see that in Rob Porter," Shah answered when asked about President Trump's reaction to the allegations. "He was surprised by it, he was disheartened by it, and he was saddened by it."
Talal Ansari is a reporter for BuzzFeed News and is based in New York. His secure PGP fingerprint is 4FEE 894C 8088 7E08 E170 A515 2801 7CC6 95D3 11C2
Contact Talal Ansari at talal.ansari@buzzfeed.com.
Got a confidential tip? Submit it here.
loading…